Contents
What is Rafting?

Historical Origins of Rafting

What is Whitewater Rafting?

How to do Rafting?

Rules of Rafting

Rafting Equipment List- What Equipment is Needed for Rafting?

Rafting Boat

Life Jacket and Helmet

Rafting Shoe

Rafting Paddle 

Rescue Throw Bags

Rafting Clothing

When is the Best Time for Rafting?
We compiled together a comprehensive guide that includes all the necessary information you will need to do rafting. You can find below useful explanations on how to do rafting and its historical origins. Moreover, best locations for rafting in Albania and all around the world are waiting for you to discover.
What is Rafting?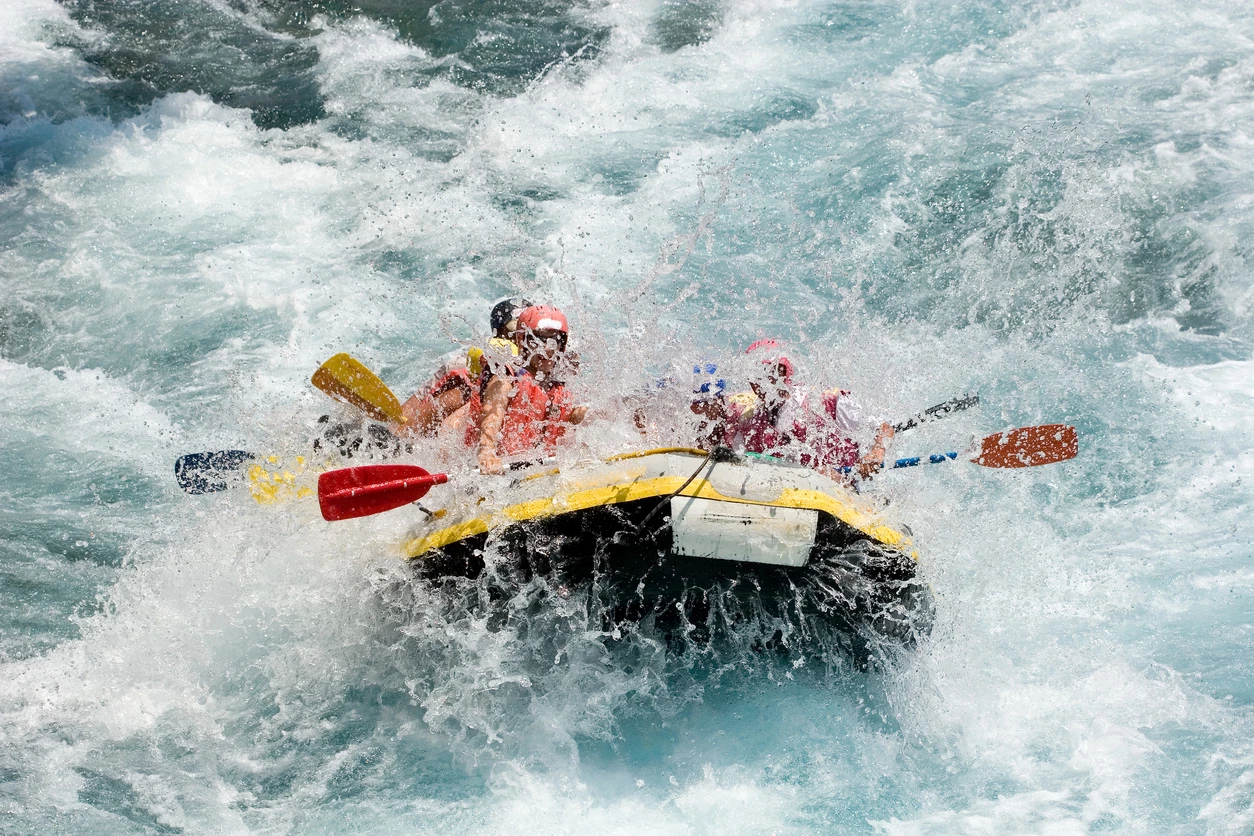 Rafting and whitewater rafting are outdoor entertainment activities that use a boat or an unsinkable raft. It has different difficulty levels according to the current of the water in which the sport is done. It can be done solo but is more commonly done with groups and needs good teamwork to manage the water. River rafting, canoeing and whitewater rafting are the most preferred styles of this sport.
Historical Origins of Rafting
People have been rafting on rivers for travel or fishing throughout the history of humankind. This adventurous sports activity is known to be done since 1811 and the modern version has become popular around the 1950s. The first known attempt to do this extreme sport was on Snake River without any equipment of today's rafting. The river is named Mad River due to its dangerous route. Later on, the first commercial trip on the river was successfully done in 1940.
Rafting used to be done with an individual paddling with 3 meters to 4.3 meters rafts with double-sided paddles. The modern rafting and whitewater rafting are done with multi-person rafts and single-sided paddles. The boat is propelled by a team on it. The team is guided by a professional raft guide at the stern of the boat, who controls the navigation and the speed of the boat by leading the team.
Rafting can possibly be fatal in some rivers, today it is done by many people and is a safe outdoor sports activity in the commercial areas. This sport also has tournaments and an International Rafting Federation. Most commercial routes are suitable for beginners and you can easily find daily rafting tours, rafting tours camping, and whitewater rafting according to your experience level.
What is Whitewater Rafting?
Whitewater rafting has more action than the traditional rafting. Conquering the river with teamwork and beating the fear of dangerous white water makes this sport very exciting. The best part of whitewater rafting which separates it from the other action sports is the chance to share the joy of the action with the beloved ones. It is 200 years old activity and shares a common history with rafting. Like rafting, it is done with a team of 8 to 12 people with a rafting guide. There are tours for white rafting in different locations around the world. There are six grades of difficulty also known as the International Scale of River Difficulty. 
Class 1:

Skill level of it is very basic. You can try this level with your family and kids.

Class 2:

It requires basic paddling skills. It is done on rivers that have some rough water and some rocks.

Class 3:

You need some experience in rafting for this level. There are tours that do this level of whitewater rafting.

Class 4:

At this level, you need to be more experienced and be able to do the maneuvers in medium waves.

Class 5:

Only the professionals are allowed to do whitewater rafting on this level. It has large waves, drops, so it requires excellent maneuvers.

Class 6:

This level is the top of whitewater rafting and it can be seriously dangerous even for professionals. Rivers with class 6 can damage the best equipment and there are so few who completed all section.
How to do Rafting?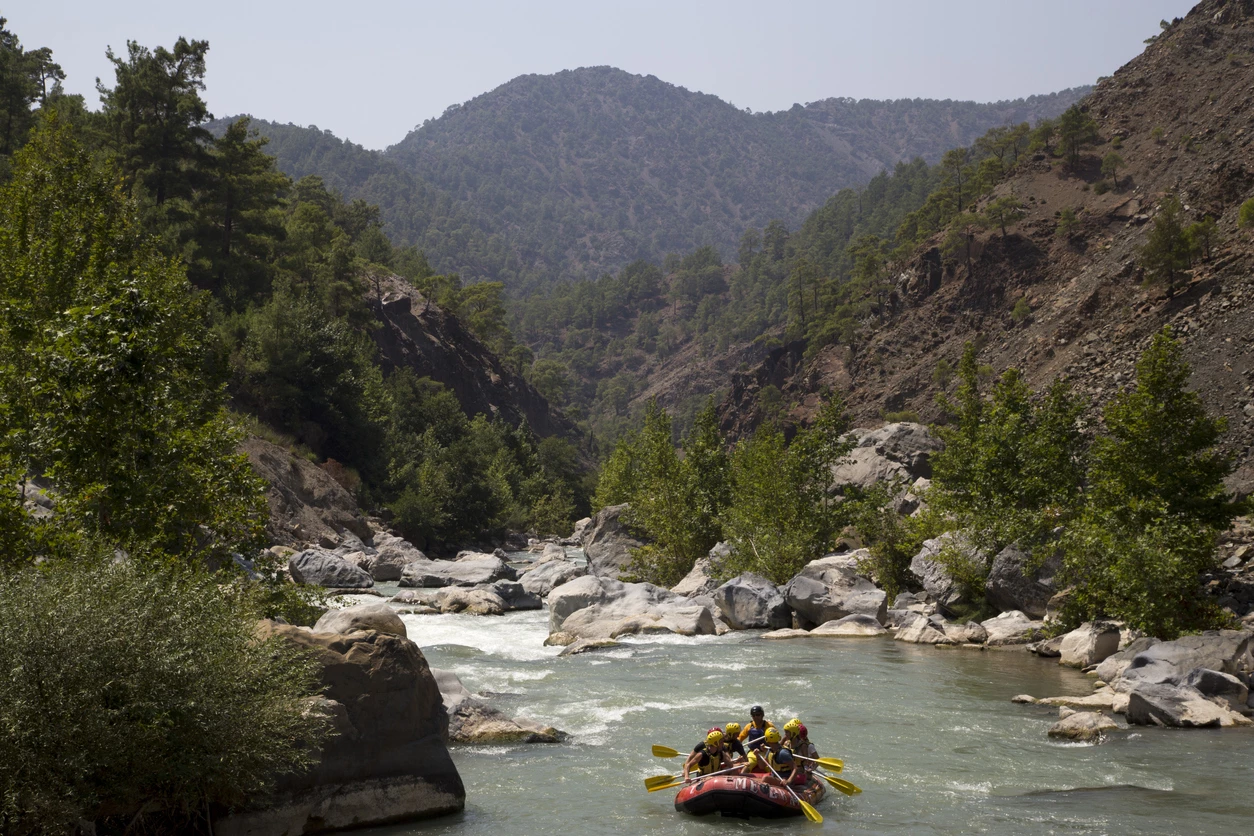 River rafting can be as long as you want and you can go alone like canoeing. There are multi-day rafting tours where you can camp or you can find daily rafting tours. Whitewater rafting, on the other hand, is more extreme than others and it has daily and 3-4 hours options depending on the location. You can have river rafting tours solo or with 2 to 3 people. Whitewater rafting needs teamwork and is done with 8 to 12 people depending on the boat size. The best time for rafting can change according to the location. Some rafting tours can be good in spring and you can spend beautiful times while watching nature around the river. Some people do canoeing in Norway and Sweden on the fjord to watch whales migrating. You can always find different experiences in this sport.
Rafting is fun to learn and requires attention. The best way to learn is to attend a rafting training but it is good to know some tips about rafting before you try. There are a couple of safety rules that will make rafting more enjoyable.
Rules of Rafting
Pick your clothing according to the season that you will go rafting. Wet suit, splash jacket, and proper river shoes are enough for chilly weather.

Always wear a life jacket and a helmet. Having this equipment will keep you relaxed and will prevent unwanted dangerous situations.

Listen to your guide carefully before rafting. They will talk about the rules and commands. High-siding is one of the most important commands that the rafting guide would give to keep the boat from capsizing. The purpose is to keep the boat and your team on the water.

Your paddle is one of the wheels of the boat. Keep it tight and don't drop it.

If you fall into water keep your head up and your feet down the stream. This will help you to swim easier and you can use your legs to push yourself from the rocks in the river. You shouldn't stay in the water for long because your team is with you and if you swim close enough to the boat you will be on the boat soon.

Trust your rafting guide, because they won't put you in danger. Tours may include exciting moments but know that they are planned. They will warn you about the dangers at the safety talk before rafting. Always listen to them before and during rafting to enjoy the action safely.
Rafting Equipment List- What Equipment is Needed for Rafting?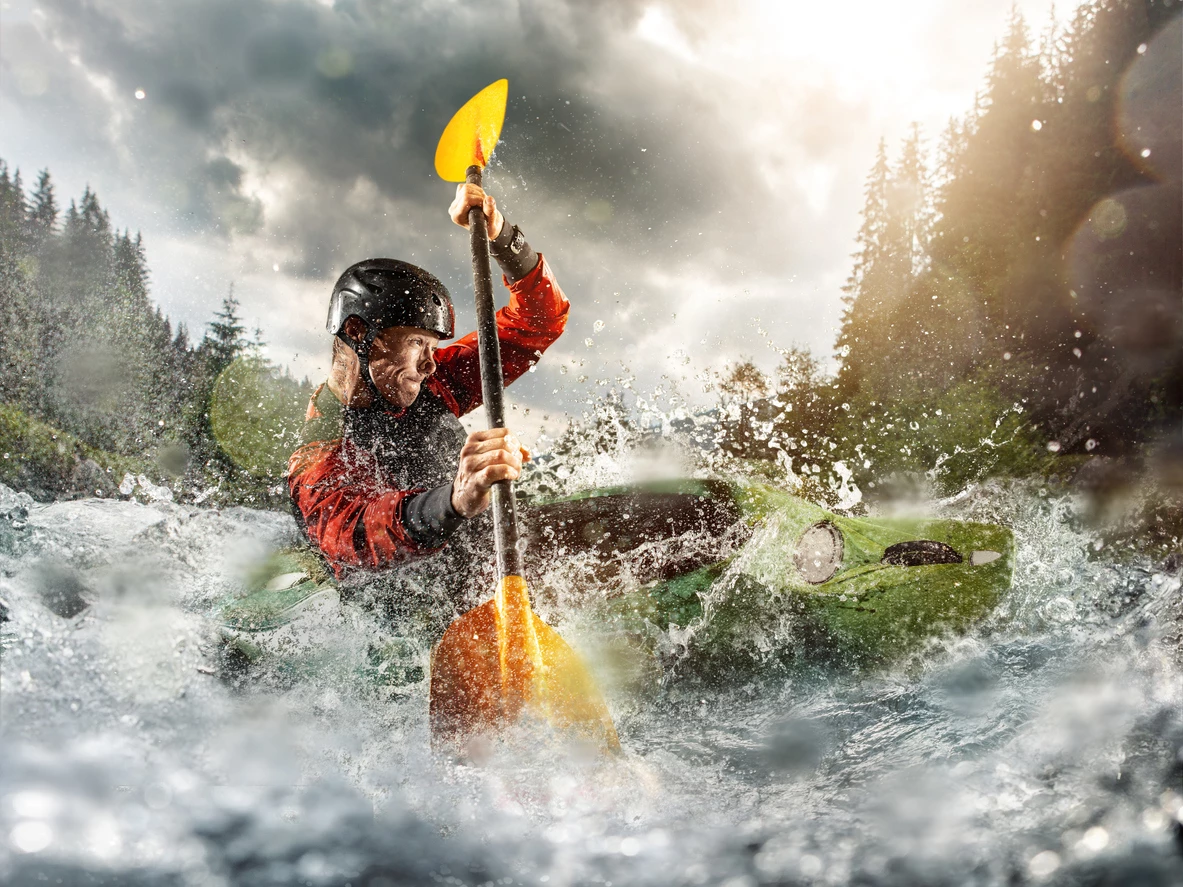 Like many sports, knowing about the rafting equipment will help you to learn the sport easier and understand the rules better during the safety talk before rafting. You can buy the rafting outfit for yourself and rent a boat and paddles from rafting locations. Good quality equipment will bring a better rafting experience. We have listed some of the equipment you need for rafting for you.
Rafting Boat
There are different kinds of rafting boats according to the style of rafting. Riverboat, fishing rafting boat, canoe, oar boats, paddle boats, and inflatable kayaks are some of them. Inflatable rafting boats are the most common for water sports and you can find them at the rafting tour organizations or rafting shops. The size can change depending on the usage and, quality is the most important thing you should pay attention to.
Life Jacket and Helmet
These equipment are must for rafting for your safety. Never underestimate the power of nature and always wear a licensed brand life jacket and helmet before rafting.
Rafting Shoe
Sandals or special rafting shoes will protect your feet from sharp objects. Open-toe sandals are one of the best options for rafting. Closed-toe sandals are also popular and both of them give enough protection.
Rafting Paddle 
Paddles should be carbon and need to be of good quality.
Rescue Throw Bags
Rescue throw bags are good safety equipment which can be helpful if you fall into the water. The bag consists of a rope attached to you and to the rescue person on the boat.
Rafting Clothing
There are two kinds of rafting suits for body heat insulation. A wetsuit is good in the spring and the drysuit is good to protect the body from the cold in winter. Fast-drying shorts and t-shirts will be enough for summer.
When is the Best Time for Rafting?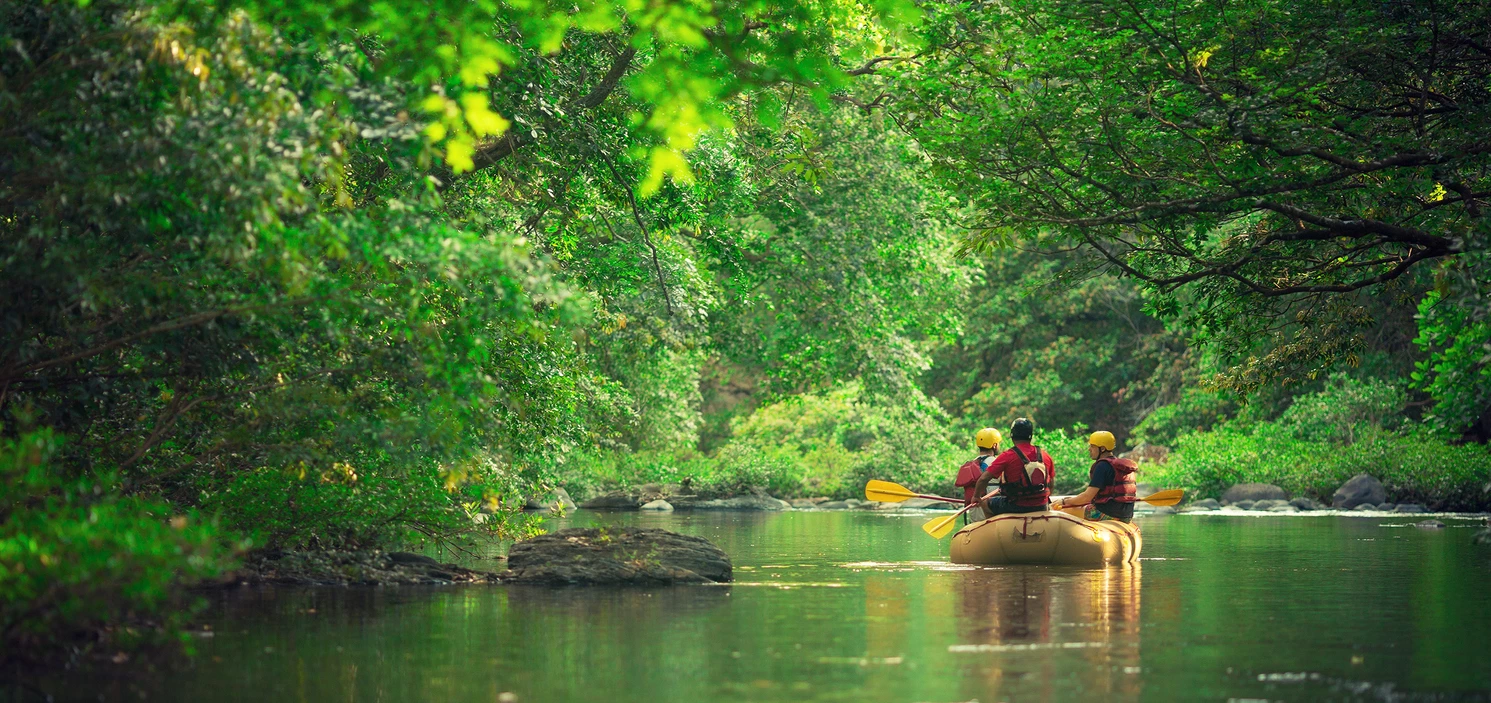 Rafting is a sport that depends on seasonal occupancy rates at rivers and water flow rates. Starting from spring, water comes down from the mountains and fills the riverbeds. So it can be done from March to October but is usually done in summer. You can choose any month according to the crowd. If you want to try this sport without the crowd, you can do it in March, April, and May as the rafting tourism peaks in summer. 
March and April are the beginning of the rafting season and the water can be cold. Also, tours would be cheaper than other months. The summer season, which comes with May, is the period in which rafting tourism activities begin. As of this month, rafting training programs for children begin and it is quite enjoyable to do rafting in May. In summer rafting tourism peaks and these months are the most crowded times for rafting. You can find rafting tours on many days of a week. As the summer season ends after August, rafting tours and the number of people who are doing rafting starts to decline. The fall has the most beautiful natural scenery you can see while rafting.
It is recommended that the beginners try this sport in summer with rafting tours where you can find a guide. Every river has its own time for rafting so you should check information about the rafting location before you plan.  
Source: Pegasus airline